General Description
Lupa is the daughter of Lincoln and Lucy Loud. No matter the Headcanon, she is portrayed as a dark and edgy soul, just like her mother but with a vein of black humor and fondness for getting in troubles. In most head canons she is twelve years old, in others she is older. One thing that never changes is her white hair, similar to her father's.
Usually, she is dressed with black and yellow clothes, though some artists have her wear black and white clothes, and some others in black and purple. Popular images often feature her with a cigarette, despite her young age.
Like most of the original ten sin kids, she was created by SB99 and popularized by Patanu102.  
In some HC she has disturbing yellow eyes and long fangs like a wolf.  
Personality in different Headcanons
In Patanu's Headcanons
To be added-
In BizarreJoe's Headcanons
To be added-
In Warden-Sigma's Headcanons
To be added-
Known Lovers
Lemy Loud
To be added-
Lacy Loud
To be added-
Lincoln Loud
To be added-
Hugh Jr.
To be added-
Trivia
- Thanks to a childhood program she enjoyed/enjoys, her father calls her honeybee.
Gallery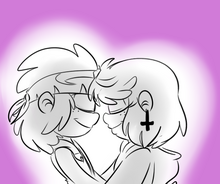 Community content is available under
CC-BY-SA
unless otherwise noted.