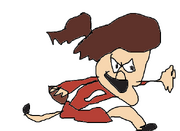 The Adventures of Lymn Lpud is a series made entirely in MS Paint and Windows Movie Maker. It is extremely poorly drawn and a lot of typos are made in the closed captions and in the characters' names. If you would like to be in this show, put your name below.
Characters
Crew
TheAnimatorCartoonistDude: Creator, lead animator
MichaelWilemonTheMime: Gives Ideas For Episodes
RZF25: Writer
Ice Bear Phantom: Gives Ideas For Episodes
LillyToytastic1234: editor/creator for new characters
Shrek5959083q4 - קɭєครєђєɭק๓є
Episodes
Season 1 (2017- early 2018)
1. Lymn goes to skool- self explanatory
2. Lots of agruing- The lpuds get in a fight about nothing
3. Lymn likes Frankie- Lymn and Frankie like each other
4. Lymn gets a new football- Self explanatory
5. Lymn makes a new fren- self explanatory
6. Lymn and Clyse are now a ship- self explanatory (paired with episode 7)
7. Clymn doesn't work out- clyse and lymn end up breaking up after 1 day
8. Lymn goes to the gymn- self explanatory
9. Lymn's birthday- self explanatory
10. Lymn's season finale- Lymn has a big football game and then her and frankie end up kissing at the end
Season 2 came out in 2019
Lymn meets the new girl, Litty
Community content is available under
CC-BY-SA
unless otherwise noted.